More than 1,500 professionals from across the advancement services field participated in a comprehensive career and salary survey conducted in the spring of 2023 by the Association of Advancement Services Professionals (aasp), BWF, and Lindauer.
The survey collected valuable insights on a range of topics:
Career paths and retention
The relationship between data analytics and frontline fundraising
Expectations regarding hybrid and remote work
The role of DEI initiatives in the industry and the workplace
The survey was last conducted in 2020. In the three years since, nonprofit organizations and employees have navigated seismic shifts in the workplace and the job market as a result of the Great Resignation and the Great Reconsideration.
"The results of the 2023 survey illustrate what has changed—as well as what has remained consistent—as advancement services leaders help their organizations adapt to new modes of work and reevaluate skills that will fuel success in their current roles and larger career development," says Lindauer CEO Deb Taft. "This study offers nonprofits actionable data that can help inform strategies for recruiting, developing, and retaining high-performing fundraising and advancement teams."
View and download the key findings from the 2023 Advancement Services Career and Salary Survey.
Visit the aasp website for information on accessing the full survey report.
Key findings in this article:
Advancement Services Professionals Are Open to Career Paths Outside Philanthropy.
According to the 2023 aasp survey, 46% of advancement services professionals have either considered pursuing or been recruited for roles outside of philanthropy in the last 12 months.
A variety of push and pull factors may be driving this curiosity in alternate career paths.
"As the profession continues to mature and people progress in their careers, advancement services professionals are finding that their data analytics skills are in demand across sectors and industries," says Ali McLane, Lindauer Senior Research and Analytics Consultant.
Some people are testing the waters and pursuing new career opportunities, while others are entering the job market because they value the flexibility offered by other employers or because they do not see a path to advancing within their organizations.
In the aasp survey, career advancement emerged as a variable in whether or not advancement services employees stay with their organizations. When asked to comment on the career opportunities in their current organizations, 58% of respondents said they were not optimistic or they did not see any opportunities for advancement.
In addition to career paths, professional development may also factor into an organization's ability to retain advancement services talent.
The survey asked individuals to rank the top three skills they would most like to develop for their career growth. "Data analysis/data science" took the top position. That is no surprise, given the AI-fueled proliferation of tools and platforms and the potential for using new technology in advancement services.
The #2 ranked skill, however, was "collaborate with leadership on non-technical strategic decision-making." Developing these competencies can make or break the ability of an advancement services professional to advance into leadership roles. From a retention and talent management standpoint, organizations should continue to identify opportunities for advancement services team members to participate in organization-wide initiatives involving colleagues inside and outside their departments.
In many instances, team members may simply not be aware of the professional development available to them. Managers should regularly communicate the opportunities that are open to team members, as well as encourage staff to seek professional development that will expand their skill sets and fuel their career growth. One low-cost option is cross-functional training led by team members within your organization or by peers in the industry.
Frontline Fundraisers See Potential for Greater Collaboration with Advancement Services.
In recent years, many nonprofit leaders have recognized the potential for using data to better understand donors, inform outreach strategies, build and nurture relationships, and secure gifts for critical initiatives. As a result, these leaders have worked to strengthen connections between advancement services professionals and frontline fundraisers within their advancement or development teams.
A sizable percentage (43%) of total survey respondents—both advancement services staff and frontline fundraisers—attest to advancement services being involved or very involved in philanthropic strategic decision-making at their organizations.
That so many organizations are integrating advancement services into their fundraising operations is a sign of growth and evolution for both the advancement services profession and the broader field of philanthropy.
At the same time, the survey results indicate there is room for more organizations to achieve a greater integration of philanthropic functions: 56% of total respondents reported that advancement services is either not at all involved, not so involved, or only somewhat involved in strategic decision-making. This statistic is on the rise. In the 2020 aasp survey, 47% of respondents responded with one of these answers.
Fortunately, frontline fundraisers and advancement services practitioners agree on the importance of collaboration and its potential for accelerating fundraising results.
When asked to rank the greatest opportunities for advancement services to support growth in fundraising, "integration of advancement services and frontline departments" was the #1 response from advancement services respondents; it was the #2 response from frontline fundraisers who took the survey.
"As fundraisers work more closely with their advancement services colleagues, leaders may develop plans to foster further collaboration in order to maximize the benefits of connecting data and donor engagement strategies," says McLane.
Flexibility Is a Priority for Employees.
When evaluating current or prospective roles, professionals in the advancement services field rate hybrid/remote work as one of their top priorities.
Flexible work options preceded the pandemic, but they have become ingrained in the habits and expectations of many professionals. What once was regarded as a luxury is now something that many in the nonprofit sector expect from their employers.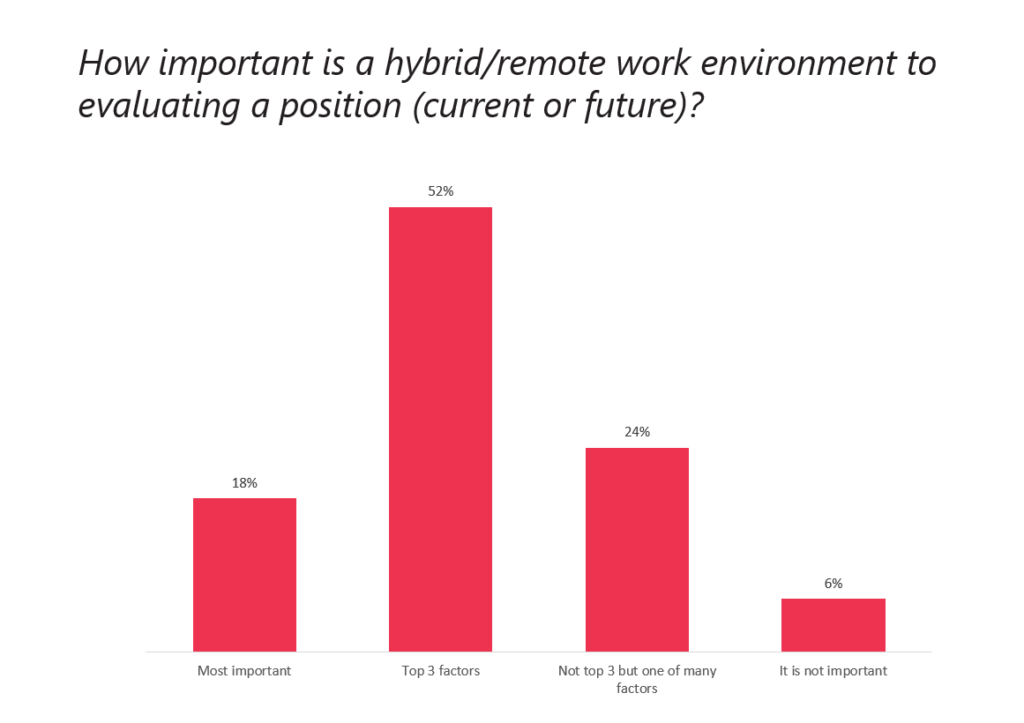 Among advancement services survey respondents, 70% said that the ability to work remotely or in a hybrid capacity is one of the top 3 factors they take into account when considering career opportunities (compared to just 16% of respondents in the 2020 aasp survey). Meanwhile, just 6% of respondents shared that they do not regard it as an important variable when deciding whether to remain in their current role or to pursue other options.
"Studies show that workers are just as productive when afforded the flexibility that comes with remote or hybrid work arrangements," says Lindauer Senior Consultant Chandra Montgomery. "Leading organizations are developing increasingly sophisticated strategies to harness the benefits of hybrid arrangements, optimizing results by allocating certain types of work to the office and other types of work to remote settings."
Organizations that are instituting or fine-tuning their flexible work policies are encouraged to invest in training managers on how best to support employees in different work environments. To ensure the success of hybrid teams, it is imperative that managers find the right moments to gather together in person—for example, for team-building, strategic planning, and creative ideation.
Fortunately, nonprofit leaders and their advancement services teams are in agreement when it comes to attitudes about remote or hybrid work. Of the managers who took the aasp survey, 68% believe that advancement services teams can be successful in hybrid or remote positions. This management perspective reflects a deeper history of remote work being embraced and enabled in the larger technology work arena.
Some organizations may not be able to provide remote or hybrid options for their employees. But those that can support these options will have a recruiting advantage in building wider, more diverse, and stronger pools of talent for their open positions.
Respondents Believe Their Organizations Are Progressing with DEI. They're Less Certain About the Field of Advancement Services.
Recent studies by Edelman and Just Capital reveal a stark divergence in how business leaders and workers perceive progress toward diversity, equity, and inclusion. Employee disenchantment in this area stems from a range of causes. Commitments to systemic transformation have waned, layoffs have disproportionately affected BIPOC professionals, and the weight of advancing a company's DEI goals all too often falls on the shoulders of employees of diverse lived experiences.
The nonprofit sector is not immune to these issues. However, the aasp survey indicates that there may be more alignment within nonprofit organizations than there is within for-profit companies. A majority of survey respondents—leaders, managers, and staff—believe their organizations are making meaningful strides to improve diversity, equity, and inclusion. However, respondents expressed less certainty that the advancement services industry was doing enough to promote DEI in the field.
The industry's support for flexible work may present it with an opportunity to advance diversity, equity, inclusion, and belonging across the field.
There's growing evidence that remote and hybrid work arrangements particularly benefit women, people with disabilities, and BIPOC employees. For people from underrepresented groups, navigating traditional office settings can take a heavy emotional and psychological toll. Working remotely can improve individuals' well-being while offering the flexibility to balance work with other responsibilities that may in the past have affected both productivity and career advancement.
"When organizations embrace flexible work modes, they create opportunities that transcend the physical, geographic, and logistical constraints facing people from diverse lived experiences," says Montgomery.
As a champion of flexible work, the advancement services field can help more organizations understand the benefits of remote/hybrid work and the impact it can have on their diversity, equity, and inclusion efforts.
Conclusion
The 2023 aasp survey reflects the many changes that the advancement services profession and the nonprofit world have experienced over the past three years. These changes have resulted in the formation of new attitudes and expectations among nonprofit professionals; they have also resulted in the surfacing of new possibilities for nonprofit organizations.
Furnished with these insights from advancement services professionals and frontline fundraisers, nonprofit leaders can make informed decisions to shape their fundraising and advancement services teams and position their organizations for success.